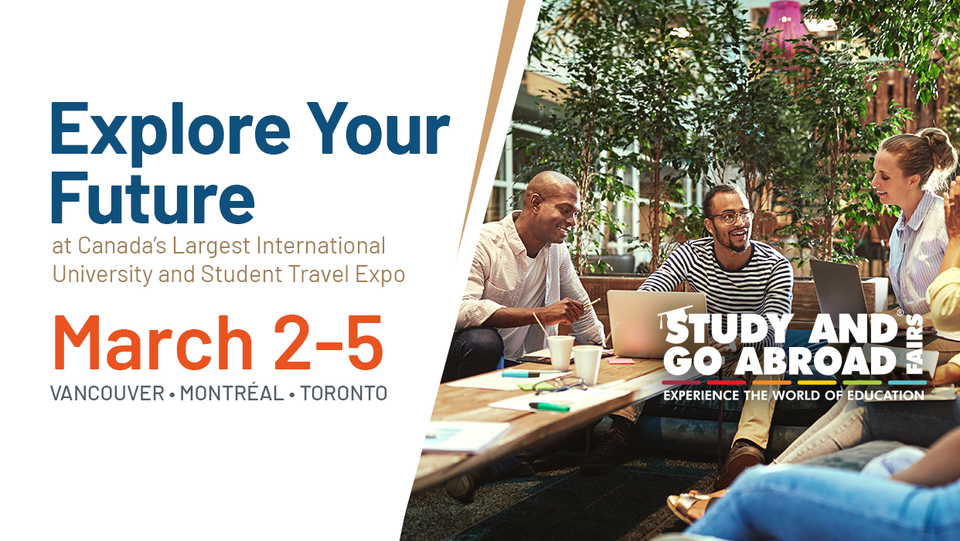 Sign up NOW for FREE for our
2023 Spring Student Fairs
Explore Your Future!
Meet face-to-face with universities, professional schools and graduate schools from Canada and around the world in Vancouver, Montreal and Toronto. Learn about undergraduate and postgraduate degrees at home and abroad; certificate programs; diplomas and short-term study abroad courses. Ask about admission requirements, exciting destinations, and scholarships.
Attend free seminars during fair hours on a range of topics – check the schedule here.
Taking a gap year? Visit the student travel booths to find out more about gap year options, including work abroad.
Check here to see which exhibitors will be attending the fairs, with their profiles and weblinks, to start planning your day.
Pre-register here, and be automatically entered into a draw to win some great prizes, including a free flight to anywhere in the world on Air Canada.
4 great reasons to attend a Study and Go Abroad expo:
Planning your next step in education? It's a unique opportunity to connect with universities, graduate schools and colleges from around the world. Learn about undergraduate and/or postgraduate level programs at home and abroad.
Looking to work abroad, learn a language, or pick up career tips? Visit the booths of student travel organizations and language schools, as well. Connect with international embassies to find out about what their countries can offer in terms of studies and work opportunities.
Interested in scholarships? Check out which universities are offering scholarships and visit the ScholarshipsCanada booth.
Attend webinars throughout the fair on studying Law, Medicine, Hospitality and a full range of other subject areas.
Why Study Abroad?
"Cultures – no better way to learn about a culture than to immerse yourself in it."
"It makes you open-minded and shows you how life is different in other places, but in the end it's pretty easy to have fun with everyone."
"It can completely change your aspirations and help you discover what you truly want."
"To travel is to understand yourself and the notion of home."
"Where you grow up shapes you as a person, your outlook, your personality, your goals. Only by leaving and looking back can you truly realise what you have, what you want and what you lack."
Visit studyandgobroad.com to learn more, and to check out the exhibitors' list and webinar schedule.